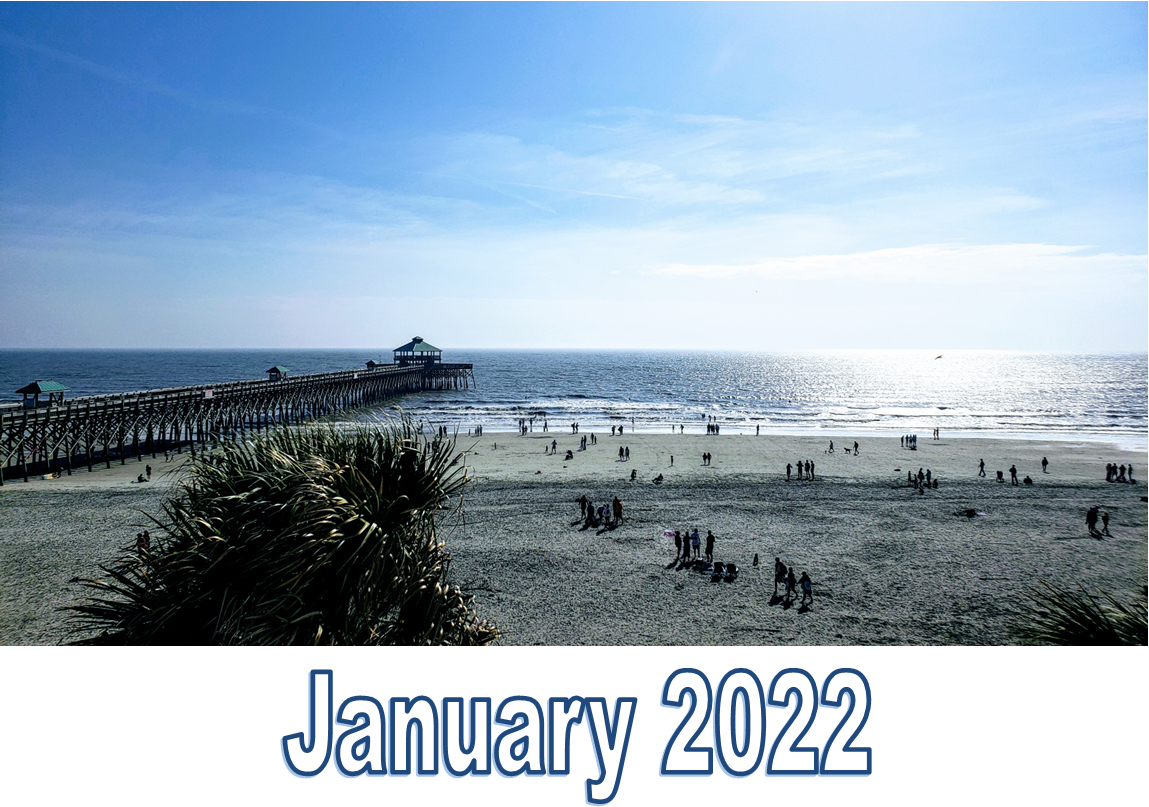 2022 is here!! Get the New Year started right with some collards and hoppin' john after you view the Folly Beach Flip Flop Drop at midnight and the Bill Murray Look Alike Polar Bear Plunge on the 1st. The Stingrays Hockey Team will be at the North Charleston Coliseum on Jan 2, 14, 15, & 23. Here's your Charleston area calendar of events for the month of January:

1: Bill Murray Look Alike Polar Bear Plunge, Folly Beach
7: New York Bee Gees Tribute Band, N Chas PAC
7: Fleetwood Mac Tribute Band, Chas Music Hall
8: Oysters on the Point, Charleston Harbor Resort and Marina
8,9: 30th Anniversary Monster Truck Jam, N Chas Coliseum
9: Chamber Music Charleston Ovation Series, Dockstreet Theatre
13: Menopause the Musical, Gaillard
13-15: 6th Annual Black Ink-A Charleston African American Book Festival, Virtual
13-23: Charleston Restaurant Week
15: Snowboard Rail Jam, Mex 1 Coastal Cantina West Ashley
15; Charleston Marathon, Begins at Burke High School
15,16: Repticon Expo, Ladson Fairgrounds
16: Michael Bolton, Gaillard
19: Awendaw Green Barn Jam Series
20: Little Feat, Chas Music Hall
22: Carpenters Remembered, N Chas PAC
22: Dog Man The Musical, Gaillard
23: Comedian Ginger Billy, Chas Music Hall
26: Tig Notaro, Chas Music Hall
27: Palli O'Furniture Drag Spectacular, Chas Music Hall
28: Zoso Led Zeppelin Experience, Chas Music Hall
29: Ashley McBryde, Chas Music Hall
30: Dinosaur World Live, Gaillard

Supply issues in the Charleston housing market are still a major concern. We had 5,000 active listings on our MLS very consistently from 2015-2019. We saw this dip down to about 1,300 during the worst of the pandemic in 2020. We went back up to about 2,000 in 2021, but we are now back down under 1,400. Charleston ended November with a 11.7% gain in transactions year to date versus the same 2020 period. The median sales price has risen a robust 15.7% to over $352k!

Here's a look at Charleston's economy in 2021(unemployment is just 4%):

2021 kicked off with Mainstream Pine Product, LLC's plans

to build an estimated $90 million crude tall oil biorefinery at the Charleston International Manufacturing Center (CMIC) in Berkeley County.

Charleston | SC's

Life Sciences and IT sectors continue to thrive

, and international companies are taking notice.

Evolt

, a digital body composition analytic company headquartered in Australia, chose North Charleston for its North American operations.

Health information tech company XIFIN chose Berkeley County to establish its East Coast operations, creating

150 new jobs

in the next two years.
The Charleston Tech Center opened the Flagship in 2021, offering a "vibrant, energetic, and flexible"

workspace to support Charleston's growing tech community

.

South Carolina's fastest-growing industry is Life Sciences.

In 2021, the momentum of this sector continued to build with Governor Henry McMaster's initiative to expand recruitment of pharmaceutical companies and SCBIO announcing a new CEO to lead economic development efforts.

Charleston International Airport is "beating its best year ever" with record travel coming through CHS regularly. It has also added 16 new domestic flights since January 2021.

TELUS International, a customer experience innovator that designs, builds, and delivers digital solutions for global brands, chose Charleston County for its new operations. The $3.4 million initial investment will create approximately

1,200 new jobs

by 2022.
Also in recent news, you may have heard that Zillow recently stopped buying homes! Don't miss this short video below where we answer why this happened.
We are committed to providing our clients with an unparalleled level of service. We strive to have you feel and experience our commitment to you all while helping accomplish your real estate goals. That is truly what it is all about! Please reach out to us if you have any questions or if you are thinking of buying, investing, or selling a home!